Barry Petticrew admits explosives and ammunition offences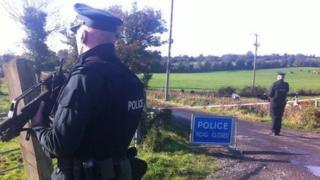 A 45-year-old man has pleaded guilty to terrorism-related offences linked to a major explosives and ammunition find close to the Irish border.
Barry Francis Joseph Petticrew was arrested by police in October 2014 following a search at farm buildings near Kinawley in County Fermanagh.
Mr Petticrew is originally from Swanlinbar in County Cavan, but his address was given as Maghaberry Prison.
He admitted possessing explosives with intent to endanger life.
Mr Petticrew also pleaded guilty to possessing articles for use in terrorism and possessing ammunition with intent.
He admitted possessing a number of items including improvised explosive devices, timer power units, a detonating cord and a mortar base.
After Mr Petticrew entered guilty pleas, his barrister asked that reports be compiled ahead of sentencing.
The judge remanded Mr Petticrew back into custody and told him he would be sentenced for the terrorist-related offences in October.
Mr Petticrew initially faced five charges related to the incident, but after his barrister asked that he be re-arraigned on three of the five charges, two of the charges were left on the books.
Those charges are possessing explosives under suspicious circumstances and possessing a firearm (pistol) in suspicious circumstances.