North Belfast: Security alert object 'declared a hoax'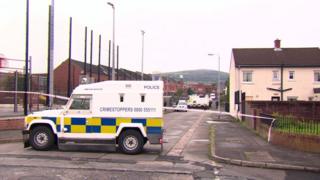 A security alert in north Belfast has ended after a suspicious object was declared a hoax.
The object was found in the Velsheda Way and Alliance Avenue area in Ardoyne.
Police closed the Ardoyne Road and Alliance Avenue during the alert.
Sinn Féin councillor Gerry McCabe told the BBC that he had been informed by the PSNI that a device had been thrown at a police vehicle.
But a PSNI spokesperson said they had no record of anything being thrown at police.
"They have informed me that families have been evacuated though I can't confirm exactly how many families have been evacuated," said Mr McCabe.
Mr McCabe added that "there are some people in the area who are sick and elderly and they need some serious medical attention".
"It's unacceptable to think that these people are going to be disrupted by mindless idiots."