Vintage car arson: Owner 'devastated' by attack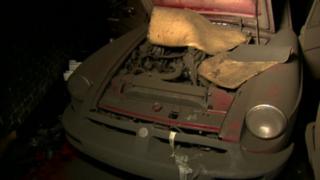 A garage of vintage cars in Larne has been targeted in an arson attack.
Six classic cars were set alight at the premises on the Brustin Brae Road.
Owner John Murphy said he doesn't know why he was targeted.
"I have no enemies that I know of," he told the BBC.
The collection of cars represented 15 years of work for Mr Murphy. Amongst those destroyed were a Lotus Sunbeam and an MG.
When he discovered the damage, Mr Murphy said he was devastated: "It's bad enough having a break-in but they didn't have to burn the vehicles, it's just soul destroying. I intended to use the cars for my retirement.
"There have been quite a few robberies in this area recently, they come in the hours of darkness and leave a lot of mess behind them."
The vintage car fanatic said the fire has left the cars unusable.
"I'll try to save what bits I can, but the cars themselves are gone," he said. "Once the tin work is gone, there's no way you can really fix it. The cars are history."