NI terrorism: Fresh search being carried out in Larne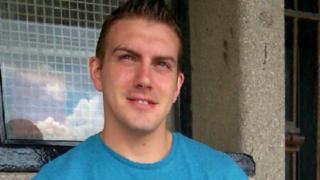 A search is under way in County Antrim in connection with Northern Ireland-related terrorism.
The search, in the Inver Road area of Larne, is linked to the arrest of a serving Royal Marine last week.
Ciarán Maxwell, who is from Larne, was arrested in Somerset as part of the investigation after searches in Larne and Devon.
The 30-year-old marine is still being questioned.
His arrest is understood to be connected to the discovery of two arms dumps near the County Antrim town earlier this year.
These finds were thought to be linked to dissident republican paramilitaries.
DUP councillor Paul Reid said the Town Park in Larne, which has been closed off by police, is a popular spot with families.
He said some homes and at least one business had been evacuated while searches were carried out.
Meanwhile, police investigating dissident republican activity are questioning a 27-year-old man.
He was arrested on Monday morning in Larne.