County Down binmen dump sausage rolls and win £70,000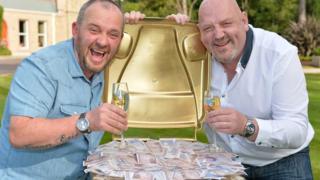 Two County Down council workers have won £70,000 on the National Lottery after deciding to spend their sausage roll money on scratchcards.
Stephen Inglis, 46, from Bangor, and Frank McCormick, 44, from Newtownards, have been working together on a bin lorry for four years.
"We're still in total disbelief," said Stephen.
He explained the pair used to do a radio quiz every morning with the loser paying for sausage rolls.
They gave up on the pastries after Frank went on a diet.
"All I can say is thank God that Frank needed to lose a bit of weight," said Stephen.
His friend has lost two stone by "cutting out the stodge".
"I can certainly recommend this diet," said Frank. "On one hand I've lost 28 pounds but on the other I've gained £35,000."
Stephen explained that Frank always did the card scratching.
"After a pause, he said: 'We've won 70, we've won 70'. I said '70 quid?' And he said: 'No, 70,000!'"
Stephen will take his time to decide what to spend his share on, but Frank wants a new car and to take his family to Disneyland Paris.