Ballymurphy: Joint funeral for Belfast couple who died 45 years apart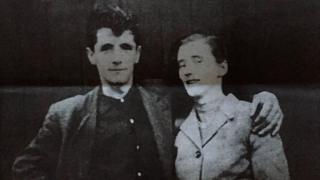 A married couple who died exactly 45 years apart have been buried together at a joint funeral in west Belfast.
Joseph Murphy died on 22 August 1971, days after he was injured in a series of Army shootings in Ballymurphy.
His widow, Mary, campaigned for decades for answers over his death, and last year his body was exhumed by the order of a coroner investigating his death.
Mrs Murphy died this week on 22 August, and her husband's remains were released from a morgue for reburial beside her.
'Ballymurphy massacre'
During their joint funeral service on Thursday, Fr Darach Mac Giolla Catháin said it was "God's perfect timing" that the couple's deaths coincided on the same dates 45 years apart.
Mr Murphy was a 41-year-old father of 12 children when he was injured during the controversial Army shootings.
A total of 10 people died after being shot over a three-day period in west Belfast, which campaigners refer to as the Ballymurphy massacre.
The shootings, involving the Parachute Regiment, occurred during Operation Demetrius at the height of the Troubles, when paramilitary suspects were being detained and interned without trial.
A priest and a mother of eight were among the 10 civilians killed.
An 11th person died of a heart attack after a confrontation involving a soldier.
Mr Murphy died in hospital, 13 days after he was shot.
'Painful truths'
His family claimed that immediately after the shooting, he was taken to military barracks where he was beaten and shot for a second time.
The said they believed that the second bullet was still lodged in his leg.
In 2014, a coroner ordered the exhumation of Mr Murphy's corpse, saying that if the matter was not investigated, the family would "forever be left wondering if an important piece of evidence" had been missed.
When Mr Murphy's remains were re-examined, a bullet was recovered and forensic tests confirmed that it had been fired from a military-issue weapon.
Earlier this year, Mr Murphy's daughter, Janet Donnelly, criticised delays in the investigation and said her father would not be reburied "until all these tests are completed".
This week, the coroner allowed Mr Murphy's remains to be released so that he could be re-buried alongside his widow.
The priest told mourners: "Mary and her family have themselves had to face and deal with uncomfortable and very painful truths.
"When Joseph was taken from her, she not only had to deal with the loss of her husband and father of her children, she also had to live with the pain of how and why he was taken from her.
"It was Mary and her family's wish that the true nature of how Joseph was taken from them be properly and publicly revealed and acknowledged, no matter how uncomfortable that truth may be."
Mr and Mrs Murphy were buried together in a family plot in the city cemetery.