Assembly: No plans to reclaim £60K in MLAs' expenses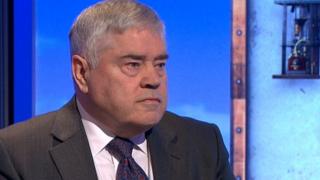 The NI Assembly has decided not to recover more than £60,000 in MLAs' expenses even though it accepts the regularity of the payments is in doubt.
In February, former head of the independent financial review panel, Pat McCartan, complained that officials had continued reimbursing MLAs for hiring external research firms.
The practice continued after the panel outlawed such payments.
This led to a row between the panel and members of the assembly commission.
The DUP's Peter Weir told the Stormont chamber that some of the expenses allegations were "erroneous and mischievous" and had "struck at the integrity of the assembly".
Joint statement
Subsequently the panel and the commission, which runs the assembly, issued a joint statement in which they acknowledged "differences on the interpretation and implementation" of the expenses rules.
They pledged to work together to address an issue which they admitted had had a "negative impact" on public confidence in the assembly.
In July, the assembly published its latest "resource accounts" on its website with no accompanying publicity.
The document reveals the former Stormont Chief Executive, Trevor Reaney, commissioned a review of the payments at the centre of the dispute.
The review found that transactions between April 2012 and December 2012 that had been queried were valid.
However, it said the handbook given to MLAs to guide them in relation to expenses did not match the provisions of a determination made by the independent financial review panel in 2012, covering the purchase of external research and administrative support.
The review found that what it terms this "mismatch" led to MLAs being paid £65,166 between January 2013 and March 2015.
The resource accounts say the divergence between the panel's ruling and the assembly's handbook "could be seen to call the regularity of the payments into doubt".
'In good faith'
However, the assembly is not seeking to recover any of the cash. It says MLAs submitted their claims "in good faith".
The assembly sought a legal opinion, and "on the basis of that legal advice, it has been decided there are no reasonable grounds for seeking recovery".
The document says the handbook on MLA expenses has now been "completely redrafted", that there is a new memorandum of understanding, and more regular contacts between assembly staff and the independent financial review panel.
Pat McCartan and the two other members of the independent financial review panel finished their five-year terms of office at the start of July. Currently there is no panel in place.
The assembly commission says it is reviewing the present model of administering financial support for members.