Senior police officer says PSNI sickness levels 'not sustainable'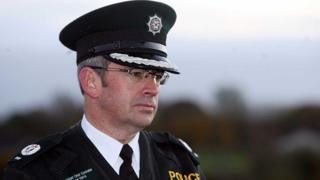 A senior police officer has said that current levels of sick leave in the Police Service of Northern Ireland (PSNI) are "not sustainable".
Deputy Chief Constable Drew Harris told the BBC's Nolan Show there were currently about 330 officers on sick leave.
Sickness levels among PSNI officers rose by a third in the past five years, he said.
Mr Harris said there had been "an exponential rise" in 2014-15.
The comments follow controversy over a tweet issued by Chief Constable George Hamilton that appeared to dismiss the pressure officers are under.
The chief constable later posted a video saying he had clearly caused some offence "and for that I apologise".
Long-term sickness
Addressing the question of rising sickness figures, Mr Harris said it represented "the rise not of short-term Monday morning, or Friday afternoon sickness. It's the rise of long-term sickness".
He expressed confidence that the problem could be resolved.
"It will improve. We know the means by which we need to bring support officers and bring them back to work," Mr Harris said.
"This isn't about forcing officers out. If we were there five years ago we can get back to there," he added.
The deputy chief constable said the PSNI had increased its spending on occupational health.