Rose of Tralee: Fathers 4 Justice protester removed after storming stage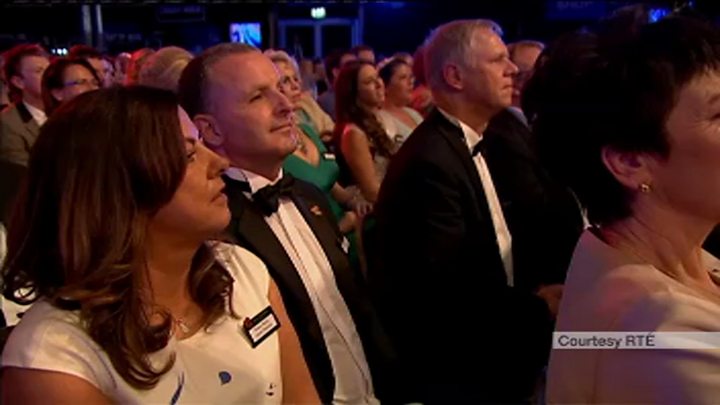 A Fathers 4 Justice protester has been removed from the stage after interrupting a live-televised festival in the Republic of Ireland.
The man, dressed as a priest, stormed the stage of the Rose of Tralee International Festival in County Kerry on Monday night.
He held up a placard and shouted: "Fathers for justice!"
Television cameras cut away from the stage while the protester was removed by security.
The Rose of Tralee International Festival is a week-long pageant in which women of Irish descent from around the world vie to be named the Rose of Tralee.
'Like something out of Father Ted'
The festival's organisers confirmed the man had purchased a ticket and was removed by Irish police after being taken from the stage.
They were satisfied adequate security measures were in place, they said in a statement.
The man took to the stage while the Cavan Rose, Lisa Reilly, was speaking to presenter Dáithí Ó Sé.
Irish Independent journalist Andrea Smith described the stage invasion as "very shocking".
"It was like something out of Father Ted, as suddenly a man dressed as a priest runs onto the stage, nobody knows what to do and he's shouting about Fathers 4 Justice," Ms Smith, who was live-blogging the event, told the BBC's Good Morning Ulster programme.
"It probably gave the organisers such a fright, but it's also probably the most exciting thing that's ever happened in the history of the Rose of Tralee," she said.
It is understood the man was Matt O'Connor, a founder of Fathers 4 Justice, who is originally from County Kerry but now lives in England.
The group are best known for a series of high-profile stunts.
In 2004, a campaigner dressed as Batman held a protest on a balcony of Buckingham Palace.
Earlier that same year, two men threw packages of flour dyed purple at the then prime minister Tony Blair.