Abortion provider Marie Stopes suspends some NI services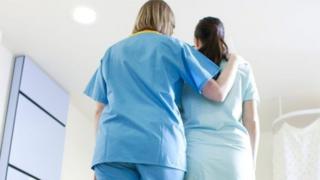 Marie Stopes International has suspended some abortion services at its Belfast clinic for women under 18 and those who are "vulnerable".
The city clinic currently provides early medical abortions within Northern Ireland's current legal framework.
The law surrounding abortion in Northern Ireland is much more strict than in the rest of the UK.
A woman can have an abortion, but only in very specific circumstances.
The Marie Stopes Clinic in Belfast currently provides non-surgical terminations up to nine weeks.
At the weekend, the Care Quality Commission (CQC) raised concerns about patient safety and Marie Stopes International suspended a number of services in England.
The regulator said it was concerned about poor governance arrangements, leading to what it called "specific immediate concerns" about consent and safeguarding.
It also said it was not satisfied about training and competence for terminations which take place under general anaesthetic or conscious sedation.
Marie Stopes then suspended terminations under general anaesthetic and to those under the age of 18.
Restrictions on abortions imposed by the CQC in England would also apply to its Belfast operation, said a Marie Stopes representative.
The spokesperson said they were imposing this suspension voluntarily in their Belfast clinic as it is overseen by the Regulation and Quality Improvement Authority (RQIA) and not the CQC.
The organisation said it was working with the CQA and hoped the situation would be resolved within a matter of days.