George Hamilton: PSNI chief apologises over 'dry your eyes' tweet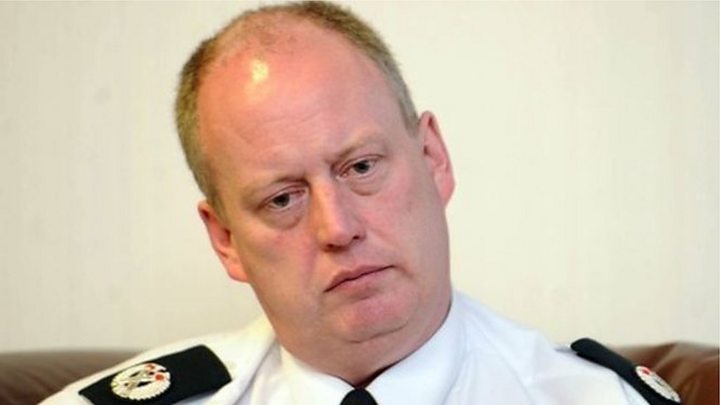 The PSNI's chief constable has apologised to his officers after posting a tweet on Saturday that appeared to dismiss the pressure they are under.
On Sunday, the Police Federation called on George Hamilton to withdraw the "offensive" comments.
Its chairman Mark Lindsay said Mr Hamilton was "out of touch".
In Mr Hamilton's initial posts, he told a fellow Twitter user: "Dry your eyes, do the job or move on."
Best practice tips from social media consultant Sue Llewellyn
Never argue with anyone
Be aware of who is looking at your posts
Be aware of trolls
Assume everything you say is permanent
Check what you're writing is accurate
Ask yourself: could it be taken out of context? Could it offend somebody?
Don't post anything late at night
How to avoid social media pitfalls
The Twitter user had challenged the chief constable's call for people to consider a career in policing, tweeting a picture of a historical recruitment advertisement and pointing out that it was now a more complex job than originally envisaged.
Mr Hamilton responded: "I know - more complex & challenging but we are here to serve so let's get on with it rather than wallowing in self-pity."
'Dry your eyes'
He responded to another tweet from the same user, which denied any self-pity, by saying: "Well you're allowed to leave & seek another job - nobody is asking you to stay. Dry your eyes, do the job or move on!"
On Sunday, Mr Hamilton posted a video on Twitter, saying: "Last night's frank Twitter conversation was what the police actually do, however such important issues are not best dealt with in the 140 characters of a tweet.
"I've clearly caused some offence in what I've said, and for that I apologise.
'Proud of officers'
"You see, I'm hugely proud of the officers and staff who go out and serve the public every day.
"I want to encourage and support then and I accept that my comments last night would not have conveyed that support - for that, I'm sorry."
In a statement to the BBC, he added: "The real debate needs to be about the role of the police and where that starts and finishes, and the impact it has on officers, staff and their families.
"I have already spoken to the Chair of the Police Federation and will be happy to discuss these issues over the coming days with the respective staff associations.
"Policing is a complex and challenging profession."
The Police Federation said it welcomed Mr Hamilton's apology and had emphasised to him the pressure PSNI officers are under - pressure which Mark Lindsay described as "nothing short of monstrous".
"The chief constable knows the extent of the problem - we have highlighted it often enough - which makes his remarks all the more bewildering," said Mr Lindsay.
"We have thousands of days lost through a range of illnesses. We have officers grappling with psychological conditions because of the appalling things they have had to experience and witness.
'Insult'
"To cap it all, we have a chief constable who tells the men and women he commands that if they don't like it, they can leave and get another job.
"To say to Officers to 'dry your eyes, do the job or move on' amounts to great insult and a stunning misjudgement," he said.
"The job is tough enough without the chief constable showing such indifference. Better if he empathised more with the men and women who deliver policing at the 'coalface'.
Ulster Unionist Party MLA Doug Beattie said it was a "ill judged, poorly formulated tweet" and "didn't convey what he really meant".
"It has created hurt amongst his police force who have some genuine concerns," said Mr Beattie.
"However, we all have to be fair here, people make mistakes, especially on Twitter - I've certainly done so myself.
"He has apologised and it's well received, but it does open up a few questions: Have we got a police force that are a 'carry on regardless' police force, or are they a police force willing to say no, that enough is enough, my officers are not able to do what's being asked of them?"
The BBC requested an interview with Mr Hamilton but he declined the offer.