Students told to vaccinate against meningitis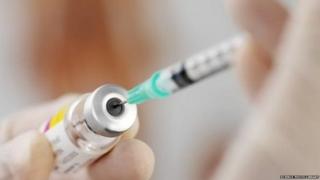 Northern Ireland's Public Health Agency (PHA) has advised students starting university or college in September to have the meningitis vaccine.
The jab would help protect against meningitis W in particular, said Dr Lorraine Doherty, the PHA's assistant director.
Meningitis W can be a deadly strain and it is on the rise across the UK.
Those aged between 18 and 25 are being asked to attend their GP to get the vaccine.
New students are at risk as they often mix closely with fellow students with whom they are unfamiliar, say health officials. Some of these men and women might unknowingly be carrying the bug.
Dr Doherty highlighted the importance of having the vaccine, especially because of the increased risk of dangerous infections that can be contracted as a result of meningitis W.
"In England we've seen an upsurge in this strain and we know one young person has lost a leg to septicaemia which was contracted as a result of meningitis W," she added.
The injection - known as the Men ACWY vaccine - was first introduced for new university students in the UK last year.
It protects against the A, C, Y and W strains of the disease - all forms that can cause death or disability.
Dr Doherty said it was worth students taking the time to get the injection:
"Phone your GP and make an appointment to get this vaccine, it's so important to protect yourself," she said.
Everyone born between 2 July 1997 and 1 July 1999 is eligible for the vaccination programme.
First-time university students up to the age of 25 are also entitled to the Men ACWY vaccine.