Safeguarding Board for Northern Ireland 'dysfunctional'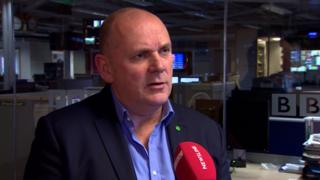 The body that oversees the safeguarding of children in Northern Ireland appears to be "fundamentally dysfunctional", a leading child safety expert has said.
Jim Gamble said "radical change" was needed within the Safeguarding Board for Northern Ireland (SBNI).
Mr Gamble, a former chief executive of the UK's Child Exploitation and Online Protection Centre (Ceop), was reacting to a critical review of SBNI.
It said the SBNI was failing to deliver its main statutory responsibility.
'Tensions' at the top
The independent review concluded vital information was not being shared among all child protection agencies in some fatal cases.
It also found that "tensions" existed among senior board members.
The review panel was headed by Prof Alexis Jay, who led the Rotherham abuse inquiry.
After reading the review, Mr Gamble said there was "a lot of work to be done" to improve the SBNI's performance.
"From this report, it sounds like it is fundamentally dysfunctional," he told the BBC's Good Morning Ulster programme.
'Pulls back the shroud'
Mr Gamble said professionals should be working together to share information that would help to "identify vulnerable adolescents who may be susceptible to going missing from education or susceptible to child sexual exploitation".
He added there was "no sense of that" in the panel's findings.
"What's even more worrying, I think, is that this report pulls back the shroud, so to speak, on that fact that senior managers - powerful individuals with organisations that can make a real difference - aren't coming together in a sense of mutual collaboration to achieve a mutual benefit for children."
"That has to stop," he added.
"There has to be clear and unequivocal focus about how they can improve, how they can join up with safeguarding panels in local areas - from Ballymena to Bellaghy to Bangor - where actually what the board identifies at a strategic level is being transmitted and transposed into practice in the context of children's lives."
He added that child protection in Northern Ireland was being delivered by "outstanding professionals" including police officers, teachers, social workers and health staff.
However, he said both children at risk and professionals working on the "front line" were being "let down" by the SBNI's failure to collaborate and share information.
Mr Gamble is currently in post as an independent chair of the City and Hackney Safeguarding Children Board in London.
The SBNI is the responsibility of Stormont's Department of Health.
In a statement, it said the health minister accepted Prof Jay's recommendations and has written to SBNI requesting they are implemented without delay.