Number of new blood donors 'down by almost 36% in last 10 years'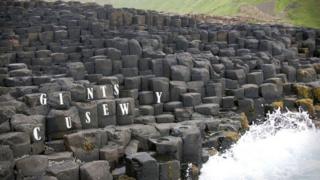 The number of new blood donors coming forward each year in Northern Ireland has dropped by almost 36% in the past 10 years.
The Blood Transfusion Service said three people get blood transfusions every hour in Northern Ireland.
It needs 8,000 new donors annually to meet demand.
The service has joined blood donor organisations across 21 countries to highlight a drop of almost 30% internationally in donors.
They are launching the "Missing Type" campaign, in which As, Bs and Os - the letters of the main blood groups - will disappear in branding for locations such as the Giant's Causeway and Crumlin Road Gaol to help get their message across.
The situation was not critical, said the Blood Transfusion Service's Paul McElkerney, but more people needed to donate to "future-proof the service".
"If we let the decline go as it is, yes, it would leave us short of blood in the future," he said.