John Boreland murder: Police revisit scene of prominent loyalist's killing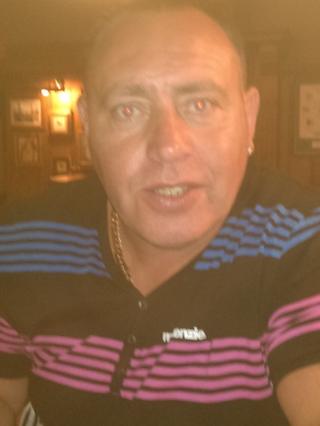 Police investigating the murder of prominent loyalist John Boreland have revisited the scene of his killing exactly a week after it happened.
The 46-year-old was shot several times as he got out of his car to walk to his flat in Sunningdale Gardens in Belfast at about 21:50 BST last Sunday.
He was a leading member of the Ulster Defence Association (UDA).
During Sunday's return to the scene of his murder, police spoke to motorists, pedestrians and householders.
A funeral for the father of three took place on Saturday.
Earlier this week, police said Mr Boreland had been warned about his safety within the past few months.
Tensions among loyalist paramilitaries and criminality are among a number of lines of inquiry, they said.
But their early assessment is that it was not a sectarian murder.
Police said that although they had made an arrest and searched a number of properties, they have still not found the shotgun used to kill Mr Boreland.
They have recovered a silver Renault Megane that they believe was in Sunningdale Gardens at the time of the shooting.
It was found partially burnt out at an entrance to a quarry on Wheelers Road in Lisburn on Tuesday and is being examined by a forensic team.
"We are appealing to anyone who saw this silver car last Sunday night and between last Sunday and Tuesday when it was recovered," Det Ch Insp Justyn Galloway said.
"We also want to hear from anyone who saw the car over recent days and weeks - who was in it, where it was being driven or parked?
"This is a key line of enquiry at this stage in the investigation.
"We are also still interested in the movements of a black Peugeot 307 car, which was travelling along Sunningdale Gardens in the direction of Sunningdale Park."
Det Ch Insp Galloway said it was important that people with information about Mr Boreland's murder gave it to police.
"Detectives want to talk to anyone who can assist with completing a picture of Mr Boreland's movements in the 24 hours leading up to his death.
"We know he was in a bar on the Oldpark Road until shortly before he was shot.
"We want to talk to anyone who was in his company there or saw or spoke to him after he left."