John Boreland: Funeral of prominent loyalist takes place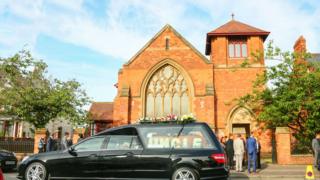 The funeral has taken place of the prominent loyalist John Boreland who was shot dead near his home in north Belfast last Sunday.
The 46-year-old father of three, who was a member of the UDA, was murdered outside his home on Sunningdale Gardens.
Among the mourners at the Moravian Church on the Oldpark Road was Andre Shoukri, one of his close associates.
Mr Boreland had survived a previous attempt on his life.
Police also warned him in recent months his life was under threat.
Meanwhile, detectives investigating the murder conducted two searches in north Belfast on Saturday.
A car was seized during one of the searches and has been removed for further examination.