Brooch, arm ring and coins declared 'treasure'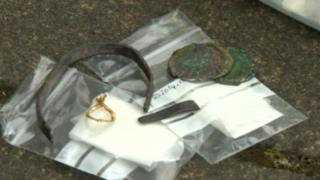 A medieval brooch, a piece of Viking arm jewellery and a bag of 16th century coins discovered in Northern Ireland have been declared treasure.
Metal detectorists found the pieces at three different sites in 2014 and 2015.
A coroner in Downpatrick, County Down, made the ruling on Thursday.
The treasure will be sent to the British Museum for valuation and then offered to National Museums Northern Ireland.
The value of each item will be split between their finder and the owner of the land they were discovered on.
The most unusual of the three pieces was the tiny mediaeval gold ring brooch, found in Carrowdressex near Ardglass last year.
Barley had grown up through it, pushing it out of the ground.
Chance discovery
A spokesperson for National Museums Northern Ireland said it was unclear how the piece had become separated from its owner.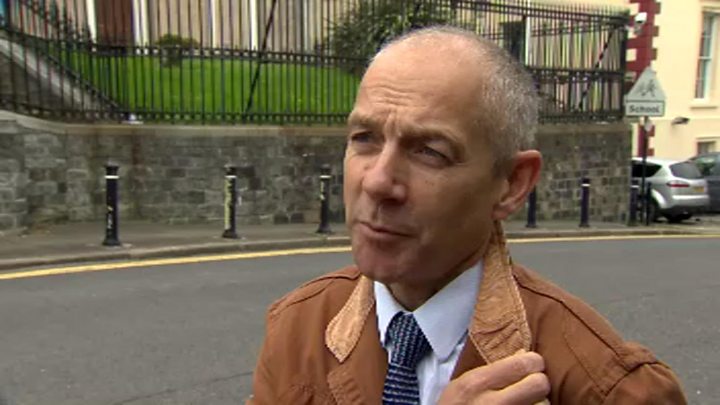 "The ring was found in the vicinity of two church sites mentioned in the 1300s and a later tower-house of the 15-16th century, but no clear relationship between these and the object can be established," said the spokesperson.
"It seems equally plausible that the location of the brooch reflects an unfortunate chance loss with an equally chance discovery centuries later.
"Given the tiny size of this brooch, it was perhaps not surprising that once dropped or misplaced the wearer found it difficult to find."
Coins in a stack
The Viking arm ring dates back to the 9th Century and was found in two pieces on farmland at Mara Castle, near Downpatrick.
The finder initially thought it was scrap metal, until a friend suggested it might be something more important.
The stack of twelve coins were found at Ballyhornan beach, County Down, in 2014.
They are all groats - or four penny pieces - issued in the name of Philip and Queen Mary between 1555 and 1558.
A spokesperson for National Museums Northern Ireland said: "It seems likely that the coins where in a stack, placed one on top of each other, when they were lost or buried."