Paramilitaries 'cannot be community leaders' - John McBurney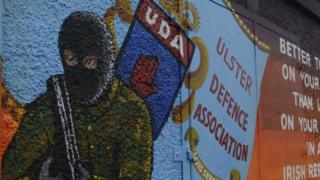 Paramilitary leaders should not be "brigadiers at night and community workers during the day", one of the authors of a report into the groups has said.
Police should not use paramilitaries as their main contact within communities, said John McBurney.
He was speaking after Sunday's killing of prominent loyalist John Boreland.
West Belfast pastor Jack McKee says the practice made communities feel powerless.
People feel they can do nothing against the paramilitaries, said Mr McKee in the aftermath of Mr Boreland's murder.
'Not being forgotten'
Solicitor Mr Burney is part of an independent panel set up as part of last year's Fresh Start Agreement to devise strategies to help the disbandment of paramilitaries.
"When it comes to police connecting with our communities, while they want us to believe they're connecting with what they call local people and with residents, they will connect first and foremost with paramilitary representatives," said Mr Burney.
"Then they'll tell us that they're talking to the local people and the residents."
He said as part of his work in the Shankill area, he had visited "young men evicted from the Shankill community, or visited the homes of young women, single mums, whose homes have been totally trashed, while their little kids hide under tables.
"That's the reality for us," he said.
Mr McBurney said he would "like to reassure the likes of Pastor McKee that this is not being forgotten, it is being worked upon, but it is a process.
"It's possibly a process that should have been worked on 15 years ago," he added.
Officials say policing is always more effective when carried out with the support and co-operation of the community.
"The reality of policing in a post conflict and divided society is that sometimes challenging conversations need to take place and police are therefore prepared to engage with those who can constructively assist us in keeping people safe," said a police statement.
"Our code of ethics and our statutory obligations guide us in such engagements."