Ballymoney burglary: Elderly pair tied up by armed burglars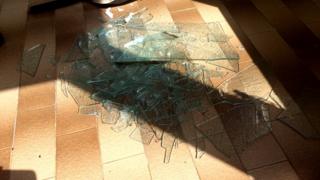 An elderly man has suffered a mild heart attack after he and his wife were tied up by burglars at their home outside Ballymoney, County Antrim.
Masked gunmen men broke the glass in the front door to get into the house on Lisnagat Road at about 01:00 BST on Monday.
They tied the man's wife up with the flex of a hairdryer, then used a belt to tie him up, cutting his wrists.
The man is still in hospital while his wife has cuts and bruises.
Both are in their 70s.
It took them around 10 minutes to free themselves after the burglars left. Both were left badly shaken.
'Terrifying attack'
The robbers ransacked some of the rooms in the house and threatened to return before fleeing with an undisclosed amount of cash.
DUP North Antrim MLA Mervyn Storey said it was a "terrifying attack".
"Proposals have previously been brought to the assembly for tougher sentences for those convicted of attacking older people," he said.
"As a society we must demonstrate that we value our older people and anyone carrying out such an attack will receive a tough sentence."