Belfast: Hundreds take part in anti-internment parade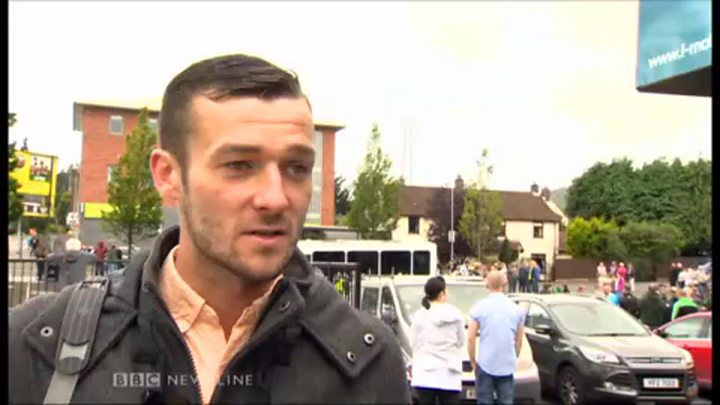 Hundreds of anti-internment protestors have taken part in a parade in west Belfast.
It began at 11:30 BST on Sunday, marchers made their way from Andersonstown to the lower Falls Road where they dispersed without incident.
A Parades Commission ruling issued last month meant the parade was banned from passing through the city centre.
Police Land Rovers parked up at Barrack Street near Millfield which was as far as the parade was allowed to go.
Speaking after the parade, PSNI Assistant Chief Constable, Stephen Martin, said he was "pleased that the parade passed off peacefully".
'Proportionate policing'
"As in previous years, the foremost consideration of my officers was to keep people safe and ensure that the parade passed off peacefully and within the law, that the rights of all those involved were protected and that the Parade's Commission determination was upheld," he said.
"While an appropriate and proportionate policing operation was put in place for these reasons, once the parade had dispersed, the area quickly returned to normal and all roads were re-opened."
The ruling issued by the Parades Commission followed trouble at last year's parade.
The commission cited "deliberate breaches" of conditions for the 2015 parade and the "extremely high risks of public disorder" as reasons.
Three men and a woman were arrested after petrol bombs, stones and bottles were thrown at police after they stopped the parade entering Belfast city centre last year.
The Parades Commission said the group had not abided by parade conditions in the past and did not give enough assurances about this year's event.
However, the parade organisers said Irish republicans were being excluded from what should be a shared city centre space.
The organisers, the Anti-Internment League, had hoped to take a judicial review of the Parades Commission ruling but were denied legal aid.
They say they now intend to take a civil case based on the denial of their civil rights.