Libraries to avoid cuts to opening hours with extra £225k funding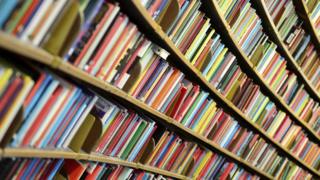 Some of Northern Ireland's busiest libraries will avoid having to cut their opening hours after extra funding was made available for their budgets.
Under proposals made in May, some libraries were set to close for an extra day every week.
A public consultation on the plan received more than 8,000 responses.
But, the Department for Communities has said that the public library service, Libraries NI, will receive £225,000 to help avoid curbs on opening hours.
Communities Minister Paul Givan said the money was allocated to his department in a reallocation of government funds in June.
He said the views of the public had "been clearly heard".
Savings
"This money will allow Libraries NI to address some of the financial pressures that the organisation, like so many others, [is] currently facing," he added.
"[Libraries] remain a valuable resource and one which I will continue to support."
Libraries NI said in May that it had to make savings due to reductions in its budget.
Libraries that were due to be affected by the proposed cuts to opening hours would have had their opening times reduced to 45 hours a week.
Irene Knox, the chief executive of Libraries NI, said that extra funding meant cuts would not be required.
She added that the public consultation showed "many examples of the difference that libraries make to the lives of people of all ages".
Mindful
"It is heartening to read their stories and within the resources that are available to us we will continue to develop and deliver services that meet identified need," Ms Knox said.
Paddy Mackel, from the public service union NIPSA said the announcement of the funding would allow libraries to "concentrate on growing and developing the service they provide".
"This is great news for the whole community and of course our NIPSA members who work in libraries," he added.
The Unison trade union said it "remained mindful" that the proposed cuts to hours was "only part of an overall package of savings" that Libraries NI was set to implement.
"The importance that the public places in our libraries must be recognised and our libraries must be protected," Unison's John Patrick Clayton added.