Lisburn bomb targeted 'individual not location'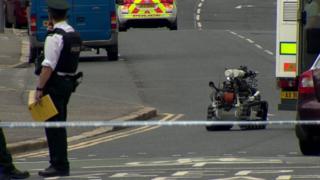 The target of a bomb found in County Antrim was "an individual rather than a location", police believe.
The viable explosive device was found in Lisburn's Market Street just before 14:00 BST on Saturday, prompting a several hour-long security alert.
The bomb was destroyed in a controlled explosion. Police are investigating whether it fell from a vehicle.
Renewing their appeal for information, they have asked the drivers of four vehicles at the scene to get in touch.
"We have been unable to identify how this device was in Market Place, but we believe the target was an individual rather than a location," said Det Ch Insp Alison Rowland.
She said police would like to speak with the drivers of the following vehicles which were in the area on Saturday:
• A grey BMW X3 or X5
• A blue Ford Focus
• A grey Vauxhall Astra
• A silver Suzuki