PSNI 'must improve protection and support for vulnerable victims', says HMIC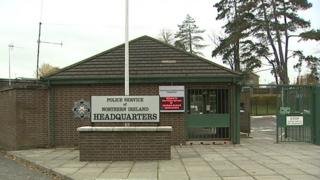 The Police Service of Northern Ireland (PSNI) needs to improve its protection and support for vulnerable victims, an independent inspectorate has said.
It said more training was required to "better understand the needs" of the vulnerable and to identify children at risk of sexual exploitation.
But it praised the PSNI's efficiency in keeping people safe, its use of resources and its financial management.
The report is from Her Majesty's Inspectorate of Constabulary (HMIC).
The PSNI said it fully accepted the findings but it added that its officers "placed a strong emphasis on protecting the most vulnerable in society".
Inconsistencies
HMIC staff carried out the assessment over a five-day period in February 2016.
It focused on two aspects of policing - the efficiency with which the PSNI keeps people safe and how effective it is at supporting vulnerable victims.
HM inspector of constabulary Michael Cunningham said: "We were pleased to find that the service is demonstrating a good understanding of current demand for its services and is good at financial management.
"However, we do have concerns with how the force responds to and protects vulnerable victims.
"In particular we were concerned to see inconsistencies in how staff recognise and assess vulnerability."
Sickness
Inspectors found that although the PSNI's response to initial calls from vulnerable victims was "generally good", improved training was needed in follow-up police operations.
They also concluded that sickness levels among PSNI staff are "too high".
They added that "currently the force is too reliant on officers and staff working overtime".
Mr Cunningham said the report identified areas that would help the PSNI to improve its efficiency, which included "building a clearer understanding of future demand, and better planning for how it uses its workforce".
PSNI Deputy Chief Constable Drew Harris said he welcomed "the overall good grading awarded by HMIC" in the efficiency inspection.
Strengthened
But he acknowledged the report on vulnerable victims identified "a number of areas for improvement".
He added that the PSNI has dedicated extra resources to investigate child sexual exploitation and "strengthened our relationships" with health trusts in child abuse and domestic abuse cases.
"Vulnerability is not an issue which the PSNI can deal with alone and HMIC has recognised the positive relationships that exist with a wide range of partner agencies," Mr Harris said.
The HMIC is an independent watchdog that inspects the PSNI and many other UK policing bodies, including all 43 forces in England and Wales.
It reports back to Stormont's Department of Justice regarding the PSNI's performance at least once a year.