Chinese tourist family left shaken after Belfast bus attack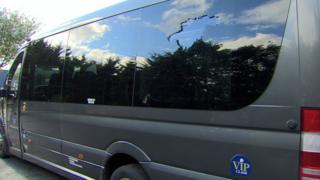 A family from China has been left shaken after a bus they were touring Belfast in was pelted with stones.
They were travelling on the Falls Road, near Divis Tower, on Wednesday afternoon.
Mark Coulter, of McComb's Coach Travel, who was driving the bus, said the firm had contacted the police.
"I feel terrible for [the tourists] and it's disgraceful for the country for it to happen," he said.
The family of eight were on their first visit to Northern Ireland and Mr Coulter collected them at Belfast International Airport earlier in the day.
He was taking them on a tour of the city, which included the Falls and Shankill roads, Parliament Buildings at Stormont and the Titanic Quarter.
He said those inside the bus were not injured, but had been frightened and asked to return to their hotel.
Mr Coulter said the company would not be taking tours into that part of west Belfast for the rest of the day.
A window on the bus was damaged in the attack.
Mr Coulter said he regularly conducted the tour and had never experienced an attack like it.
After the incident he said he drove the coach in to the car park at St Peter's Cathedral.
"Some youths approached me there and started shouting abuse at me," he said.
"I don't know if it was them [who threw the stones] or not," he said.
"Get a life, grow up.
"We're trying to bring the country back to a normal situation - it's not on."
Police said they were investigating a report of criminal damage and appealed for information.