DUP's Stormont health committee chair would not oppose introduction of HIV drug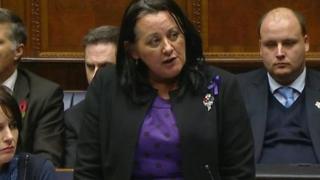 The DUP chair of the Stormont Health Committee Paula Bradley has said she would not be against the introduction of a drug that can prevent HIV.
The High Court has told the NHS in England it can fund provision of the pre-exposure prophylaxis (Prep) drug.
It is estimated the daily Prep pills would cost tax payers up to £20m a year.
Ms Bradley said price would have to be considered but she would not oppose its introduction.
"I certainly wouldn't be against the introduction of Prep in Northern Ireland especially given the fact that there has been a 422% rise in new diagnosis of HIV in the last year which is the highest increase of anywhere in the UK," she told BBC Radio Ulster's Good Morning Ulster.
"I think the price is something that is going to have to be looked at, I know that I have read that they are saying that it could cost up to £400 per month per person, I think that is for daily Prep.
"I don't think everyone that will require this will require daily Prep, for some people it will be event-based dosing so I don't think that figure is maybe as accurate as we think it is.
"Also I think we need to look at the comparable figure of the cost of someone who is on life-long medication for an HIV diagnosis.
"I have been led to believe that the figure around that is about £300,000 within their lifetime."
Health Minister Michelle O'Neill said that in Northern Ireland "there are around 95 new diagnoses of HIV a year".
She said any decision on the provision of Prep would be based on the "best available clinical evidence to achieve optimal public health outcomes within the resources available".
"The department is closely monitoring the effectiveness of the antiretroviral agent, Truvada (usually used to treat HIV) given as a Prep as a way of preventing HIV infection," she added.
"NICE (The National Institute for Health and Care Excellence) is reviewing the effectiveness of Truvada for Prep in groups at high risk of contracting HIV and the findings of their review, due in the autumn, will also be taken into consideration."
'Challenges'
SDLP health spokesperson Mark H Durkan said he would back the introduction of Prep in Northern Ireland.
"The fight against HIV is one of the biggest challenges facing clinicians and facing the LGBT community across the world," he added.
"Now that we have a drug that has been proven to reduce new instances of HIV in high risk patients by up to 86%, it is clear that we must do all that we can to ensure that it is available to those that need it."
NHS England had previously said councils should provide Prep as they are in charge of preventative health.
This stance was successfully challenged by the National Aids Trust (NAT).
But the High Court ruling does not make funding of Prep automatic and the NHS is set to appeal.