Belleek, County Fermanagh: Masked gang behind shooting at hotel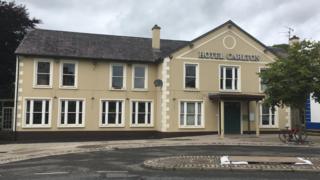 Four masked men have been involved in a shooting at a hotel in Belleek, County Fermanagh.
Staff were threatened before one shot was fired into a van belonging to a contractor who was working at the hotel on Main Street at about 09:30 BST on Tuesday. No-one was injured.
The men were wearing dark overalls with white stripes and balaclavas.
They made off in a black Ford Escort in the direction of the Irish border.
Police said a car matching the description was discovered on fire a short time later in the Derrynacross Road area of Garrison. It is believed the men then left in a second vehicle.
The Ulster Unionist MP for the area Tom Elliott said the hotel, which closed in recent years, was being worked on with a view to reopening soon.
"Somebody has driven up, balaclavas on with some sort of firearm, got out and shot into the workers' vehicle," he said.
"That's totally unacceptable in any society, let alone on the village of Belleek.
"People are trying to bring business here, they're trying to bring employment and trying to support the local community."
Police in Fermanagh are working closely with the gardaí (Irish police) to trace the men's movements.