Miniature horse Truffles causes stir in Ballymena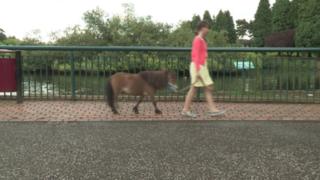 A miniature horse has become an unlikely internet star after he was spotted being walked on a lead in County Antrim.
Truffles stands just 27 inches tall, but he has had a big impact on the McCosh family in Ballymena.
He has been living with them and his best friend, a Jack Russell called Panda, for the past four years.
A miniature horse can measure up to 34 inches tall, so Truffles is small even for his breed and is fully grown.
Lynn McCosh said: "Honestly getting him was just always a childhood dream.
"After dealing with a lot of health issues I thought: 'Well, why not?'"
Lynn has suffered serious poor health in recent years and has undergone a heart transplant.
'My world'
Following double knee surgery within the past few weeks, Lynn credits Truffles with helping her get back on her feet.
"I am a firm believer that being at home with your family helps with your health and I include Truffles and Panda in our family - they are my world," she said.
"If I'm having a bad day I come out and sit in the garden and if he doesn't want to talk to me that's fine, I'm happy enough just watching him plod along and if he wants a cuddle then all the better."
'Celebrity'
Lynn said her family has been "overwhelmed" at the public response to their pet.
"I don't want to say the word celebrity, but in Ballymena you can't help but feel people are saying - these ones up the road they have a little horse," she said.
"There have been pictures on Twitter, Facebook and YouTube and thousands of people have seen them, it's not just a couple here and there.
"It's kind of funny, to us he's just a pet, he's just Truffles.
"We go out for a walk and have to stop 20 times for photographs.
"People love to see him, their faces light up."
The McCosh family has now set Truffles up with his own Facebook page.
They are also hoping that one day he could be trained as a therapy or assistance animal to help others with poor health.
Victoria McCosh, who's 11, is helping her parents bring Truffles to visit patients in a local nursing home to cheer up residents.
'Varied reaction'
"My friends actually think it's quite cool because other kids don't have unusual pets," she said.
Victoria's dad Andrew McCosh regularly walks Truffles on a lead through the parks and streets of Ballymena.
"It's a varied reaction," he said.
"Some people think I'm a mad man walking a horse and other times the kids are just overjoyed to see him.
"Having Truffles has given me a reason to get out for a walk. With everything that's went on with Lynn over the years and her problems I sort of suffered a wee bit.
"But it has given me a bit of a goal and a drive to get out."