Belfast: Anti-Internment parade barred from city centre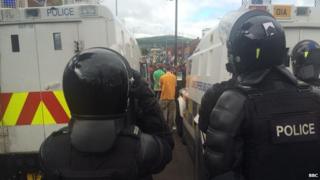 The Parades Commission have issued a determination barring an Anti-Internment League Parade from Belfast city centre.
The march is scheduled to take place on Sunday 7 August.
It follows trouble at last year's parade.
The Commission cited "deliberate breaches" of conditions laid down for the 2015 parade and the "extremely high risks of public disorder" among the causes for the decision.
Three men and a woman were arrested after petrol bombs, stones and bottles were thrown at police after they stopped the parade entering Belfast city centre last year.
'Necessary'
A spokesperson on behalf of the Parades Commission said: "The Commission has decided that it is necessary to restrict the route of the Anti-Internment League away from the city centre to Barrack Street.
"The Commission has always recognised the city centre as a neutral space that should be accessible for all and, therefore, this decision has not been taken lightly.
"The deliberate breach of the timing condition, resulting in public disorder by the parade participants and/or supporters last year, has increased significantly the risks of the proposed parade this year as has the organiser's refusal to engage with the Commission.
"The Commission has not received some essential information, specifically requested, about the proposed parade, including the dispersal plans at the City Hall. The Commission has received no assurances about any aspect of the parade.
"The lack of assurances about the proposed parade raises serious concerns about the organiser's genuine intention to hold a peaceful and lawful event this year.
"The Commission has addressed in its decision the disproportionate, serious and prolonged impacts the parade had upon the human rights of others.
"It has reflected the adverse impacts of the parade upon community relations and community life, and the extremely high risks of public disorder," the spokesperson added.
Response
The Anti-Internment League (AIL) responded to the determination with a statement on Facebook.
It said: "The Commission has deemed that republicans are not worthy of demonstrating at City Hall, making a mockery of claims by careerist politicians that equality has been achieved in the Six Counties.
"Various groups rightly hold political and religious demonstrations throughout the year in the City Centre, without opposition.
"Based on today's determination, the City Centre is open to all - except Irish republicans.
"This is despite the AIL taking the courageous steps of changing the route and time. This year's route avoids any interfaces, any Protestant places of worship. Our departure and dispersal times meant no impact on trade.
"Our legal team started work on a challenge via the Courts as soon as this determination was issued, and the Anti-Internment League shall meet later to discuss further responses," it added.