Belfast man given jail term for trashing Madison's hotel room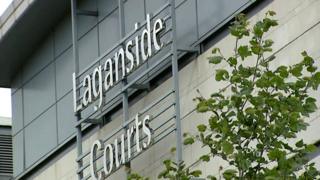 A man who trashed a Belfast hotel room and left without paying a £180 bar bill has been sentenced to six months in jail.
Stephen McCleland, 27, was handed a four-month term for inflicting damage to fixtures and fittings at Madison's.
He received a further two months for stealing £210 worth of food and alcohol from a supermarket a day earlier.
McCleland was released on bail pending an appeal against the prison sentence imposed.
A judge at Belfast Magistrates' Court told him described it as "shocking behaviour".
McCleland, of College Court Central in the city, booked into Madison's on Botanic Avenue for a night's stay on 2 June.
He was said to have run up a bill on drinks, snacks and ordering room service while there with another, unidentified man.
Later that night staff at the hotel were alerted to smashing and banging noises coming from one of the rooms, the court heard.
Prosecutors said a night porter who went to investigate was confronted by two men.
When he told them police had been called, one of the pair lifted a fire extinguisher, causing the porter to fear he was about to be hit.
Although the men ran from the hotel, McCleland was detained at a nearby location.
Damage had been caused to a safe, mirror, crockery, lamp and telephone.
The cost of repairs was not disclosed, but the judge was told the room had to remain closed for the following weekend.
New job at hotel
It was revealed in court that McClelland has since secured a job as a barman at another hotel.
He pleaded guilty to criminal damage, common assault and making off without payment.
He received concurrent jail terms for the latter two charges.
McCleland also admitted a theft from Asda on Belfast's Shore Road on 1 June.
The court heard he left the store without paying for £210.35 worth of food and drink placed in a bag.
A defence lawyer said there had been no physical assault on the porter.
As well as jailing McCleland for a total of six months, the judge ordered him to pay £180.95 compensation for the unpaid bar bill.
He then granted an application for the defendant to be released on £500 bail until his appeal hearing.