West Belfast: Festival director says they are 'undeterred' by critical leaflet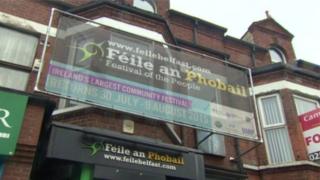 The director of the west Belfast festival has invited those behind a leaflet criticising it for involving the PSNI in its events to come and speak to his organisation.
Kevin Gamble was speaking after the Irish Republican Prisoners Welfare Association (IRPWA) distributed what they called a "Community Notice".
It accused Féile an Phobail of "promoting the PSNI".
Mr Gamble said it was "veiled threat" and an attempt to "intimidate staff".
The statement which was critical of the police was also posted on Facebook.
It criticised Féile an Phobail for "unnecessary PSNI attendance" at its events and for having photographs of police officers in its official program.
It also listed the names of Féile an Phobail's staff and management committee.
'Veiled threat'
No specific threat was issued but the festival's director told the BBC that Féile an Phobail does not know who was behind the leaflet as it was unsigned and no spokesperson is named on it.
"People are feeling uneasy about it," Mr Gamble said.
"We have offered these people an opportunity to come and talk to us, we don't know who we are talking to at this stage.
"We are not going to be deterred by this leaflet," he added.
Invitation
Responding to the criticism in the leaflet he said: "As a major event in the city, of course we are going to have that association, that partnership, with the emergency services, including the PSNI.
He invited those behind it come to Féile an Phobail and ask for a "platform to speak" on the issues concerning them.
A similar leaflet was distributed criticising a young woman who organised a children's' street party in Turf Lodge which was attended by the PSNI. It was also posted on social media.
On its Facebook page, the Black Mountain policing team said they were "invited and very happy to attend".
Condemnation
But the IRPWA described the decision to invite the PSNI as "grotesque".
A photograph of the young woman was also posted and it is understood she is not currently staying in Turf Lodge.
West Belfast MP Sinn Féin's Paul Maskey has condemned the leaflet.
He accused those behind it as "trying to instil fear" and called on them to desist from their actions.