Belfast woman's electronic cigarette 'bursts into flames'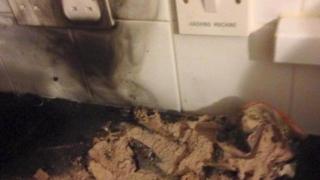 A Belfast woman has told the BBC's Evening Extra programme how her electronic cigarette (e-cigarette) burst into flames while charging in her kitchen.
Courtney Robinson said she was woken by a popping noise on Wednesday night.
"It sounded like a bulb exploding," she said.
"I went downstairs to see what was going on and saw a glow coming from the kitchen.
"The e-cigarette had exploded and was in flames."
Ms Robinson said there was a "panic" to get the fire out and described the damage left behind by the small fire.
"There was melted plastic all over the kitchen countertop," she said.
Ms Robinson said she had left the device on the charger overnight, but said she had done that many times before.
She said she is thankful that she heard the pop, which happened at about 01:00 BST and said "things could have been much worse".
In a statement, a spokesperson for Belfast City Council said all e-cigarettes "must comply with the Tobacco & Related Products Regulations 2016 which came into force on the 20th May this year".