Circuit of Ireland rally will not take place in 2017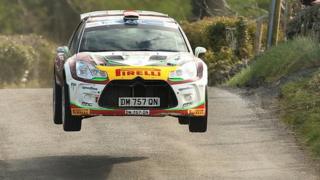 The Circuit of Ireland Rally will not be taking place next year.
Organisers said that "funding uncertainties" had made it impossible to plan the event.
Rally director Bobby Willis said the decision not to run the event had been the "most difficult" he had ever had to make.
He said he appreciated that the news would be "extremely disappointing" for a wide range of people, including hundreds of volunteers.
"To date we have had fantastic support from councils across Northern Ireland, Tourism NI and Tourism Ireland, private sponsorship and the NI Executive," he said.
"I believe we have delivered an excellent return on investment for all our partners, with the substantial growth achieved in the last seven years.
'Unimaginable success'
"We have been working hard with all our funders to plan ahead for 2017 but regrettably, at this point in time, the financial resources required to deliver the event are still not in place."
Mr Willis said the rally had reached a level of success unimaginable a few years ago, attracted an "enviable international entry list" with opportunities for more growth "within our grasp".
"For those reasons it is vital that the 'Circuit of Ireland' brand is protected for future generations," he said.
"Whilst other options for a small, local rally may be considered for next year, my plan is to take the time to work closely with our partners to secure the necessary resources and plan for the Circuit of Ireland Rally to return in 2018 with an even better event."