Brexit: Theresa May and Enda Kenny 'want to keep close links' between UK and Ireland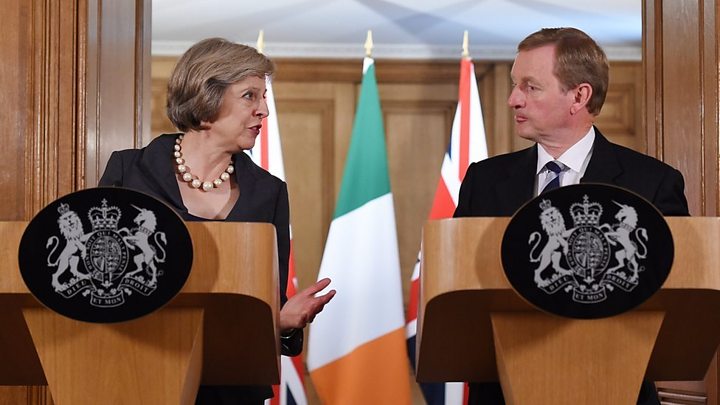 Prime Minister Theresa May and her Irish counterpart have said they want to "maintain the closest possible relationship" between the two countries in the wake of a UK exit from the EU.
Mrs May held talks with Taoiseach Enda Kenny in London on Tuesday, focusing on the consequences of Brexit.
She said there was a "strong will" to preserve the free movement of people between the UK and the Irish Republic.
Mr Kenny said he wanted Brexit talks to end with an "outward-looking" UK.
During their meeting at Downing Street, the two leaders discussed the economic relationship and travel between the two countries, as well as the Northern Ireland peace process.
Afterwards, Mrs May said: "Trade between the United Kingdom and Ireland is worth almost £1bn each week, supporting 400,000 jobs across our islands.
"We've agreed today that we both want to maintain the closest possible economic relationship in the future."
Safeguard
On Monday, Mrs May met Northern Ireland's first and deputy first ministers on a brief visit to the region, saying no-one wanted to see a return of the "borders of the past".
And on Tuesday she reiterated her "commitment to involving the Northern Ireland Executive fully" in preparations for Brexit.
"It's in all our interests to work together to safeguard out national security and the outcome of the referendum will not undermine it," she said.
"We are both fully committed to working together in support of the Northern Ireland Executive to build a better, stronger, safer future for the people of Northern Ireland."
Mr Kenny said the UK's decision to leave the EU, made in last month's referendum, was "not the outcome that we in Ireland wanted".
But he added: "We respect the decision of the UK electorate and we now must work out the consequences of that.
"We intend to work with the prime minister and all our partners in the EU and in the Northern Ireland Executive to make sure we can achieve the best outcome in the forthcoming negotiations."
He said work would be done to ensure the "benefits of the peace process are preserved in any new arrangements" that could arise in the UK's relationship with the EU after it leaves the union.
"We want the upcoming negotiation process to end with a prosperous and outward-looking United Kingdom which retains a close relationship with the EU," he said.
"Neither I nor the prime minister are in any doubt about the complexities of the negotiations that lie ahead of us all, nor do we underestimate the importance of the issues involved for all of our citizens."
Mr Kenny added that relations between the two countries "have never been better" and a "spirit of partnership and friendship" would "guide all of actions and our work together in the time ahead".