Kilbroney Park: Bike firm in jeopardy after theft of bikes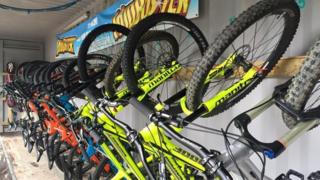 A company which hires bikes for a popular mountain trail in County Down has said its business is in jeopardy after it was targeted by thieves.
Fourteen specialized bikes were stolen from the East Coast Adventure centre in Kilbroney Park in Rostrevor.
The bikes had a total value of about £20,000.
It is the second time in four weeks that the company has been targeted - the last time 22 bikes were stolen.
There was also an incident earlier this month when vandals blocked trails in the park with rocks and logs and tied wool between trees at head height.
The 26km of mountain bike trails attract visitors from far and wide.
Three members of staff are employed to hire and maintain the bikes.
The company said this latest theft had effectively halted its hire business in peak season.