Ross Hussey: UUP MLA apologises for sending naked photos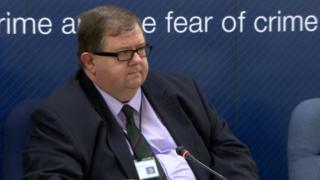 A Northern Ireland politician has apologised "unreservedly" after sending naked photographs of himself to an undercover newspaper reporter.
Ulster Unionist Party MLA Ross Hussey said he a "made a terrible error of judgement" in sending the images to the Sunday Life journalist.
The paper reported that he was using websites to meet "strangers" for sex.
Mr Hussey, who is single, said: "I accept fully that I have used websites and the internet to meet others."
He added: "I apologise unreservedly to my family, colleagues and friends for any embarrassment I have caused."
The MLA, who is also a member of the Northern Ireland Policing Board, said that he "did not think of the consequences".
A spokesman for the Ulster Unionist Party said Mr Hussey "has not broken any law".
"He is a single man and entitled to a private life."