Theresa May makes first visit to NI as PM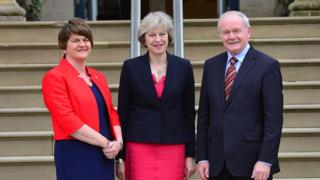 Theresa May has said the UK's exit from the European Union "must work for Northern Ireland" ahead of her first visit since becoming prime minister.
Mrs May is meeting Stormont's first and deputy first ministers on Monday.
Speaking before she left London, she said she viewed Northern Ireland as a "special and valued part" of the UK.
She added: "Peace and stability in Northern Ireland will always be of the highest priority for my government."
'Precious bonds'
Mrs May has visited Northern Ireland before, most recently as home secretary when she campaigned for a Remain vote in last month's EU referendum.
However, is her first journey to Belfast as prime minister since she took over from David Cameron 12 days ago.
It follows similar meetings in Scotland and Wales, and in a statement she said she was "delighted to be visiting Northern Ireland".
"I made clear when I became prime minister that I place particular value on the precious bonds between the nations of the United Kingdom.
"I want to assure the people of Northern Ireland that I will lead a government which works for everyone across all parts of the United Kingdom, and that Northern Ireland is a special and valued part of that union."
When she was home secretary, Mrs May warned it was "inconceivable" that border arrangements with the Republic of Ireland would be unchanged by a Brexit vote.
Analysis
By Gareth Gordon, BBC News NI Political Correspondent
The prime minister will come to Belfast emphasising her strong personal commitment to serving all the people of the UK.
But, at Stormont Castle, she will come face to face with the divisions opened up by the decision to quit the European Union.
Speaking ahead of Monday's visit, Theresa May said she had been clear the government would make a success of the UK's departure from the EU. She said that meant it must work for Northern Ireland too, including in relation to the border with the Republic.
But she will encounter an executive divided over what should happen. At Stormont Castle she will meet the First and Deputy First Ministers, Arlene Foster and Martin McGuinness, initially together and then separately.
If she didn't know it before, she will quickly realise a solution which pleases everyone will be very hard to come by in a place which, along with Scotland, voted to remain inside the EU.
Since becoming prime minister, Mrs May has vowed to make a "success" of the UK's exit from the EU.
In her statement on Sunday, she added: "That means [Brexit] must work for Northern Ireland, too, including in relation to the border with the Republic."
The statement said her negotiations with the Stormont Executive would recognise "the particular circumstances that affect Northern Ireland".
The prime minister also signalled her continuing support for the peace process and cross-border co-operation.
"I look forward to underlining the government's commitment to the Belfast Agreement and its institutions, and to working with local parties and the Irish government to fully implement the Stormont House and Fresh Start Agreements."