Crumlin alert: Pipe bomb left on car in village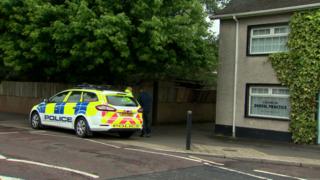 A viable pipe bomb which was left on top of a car in the County Antrim village of Crumin has been made safe by the Army.
The device, which was left on the vehicle just off Main Street, led to a security alert in the village on Saturday afternoon.
It has been taken away for forensic examination.
Nearby shops and 15 homes were evacuated while police and Army officers dealt with the incident.
Sinn Féin's Declan Kearney said it had caused disruption and damage to trade.
The South Antrim MLA criticised those responsible for leaving the bomb, saying their actions were "indefensible".
"Saturday is one of the busiest days in Crumlin," he said.
"Many businesses and shoppers were affected as a result of the disruption caused.
"Those responsible must be condemned in the strongest possible terms.
"There is no room for these type of attacks in our society and they must end immediately."