Dungannon: A-level pupils' company in running for top European award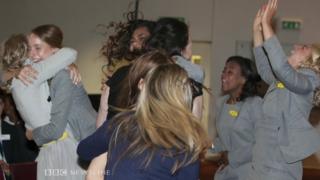 A company, formed by A-level pupils from a County Tyrone school, is in the running to be named the best in Europe.
The teenagers wrote, designed, promoted and sold a range of books about children who are undergoing radiotherapy and chemotherapy.
The stories were inspired by their Business Studies teacher's young niece, who was undergoing treatment for a brain tumour.
The eight-strong team are from St Patrick's College in Dungannon.
They have already been crowned Young Enterprise UK Company of the Year 2016.
Now they are off to Zurich, in Switzerland, to compete against schools from 35 countries for the European title.
Gizela Gusmao is one of the team, who formed a company called 'Enlighten Hope' to produce the books.
"Our adventure stories were inspired by the journey our teacher, Ms Hughes, took when her baby niece Eva was diagnosed with a rare brain tumour," she said.
One of the books, The Adventures of Eva's Hair, was written to help explain hair loss to Eva and her family.
Two other books, The Adventures of Will's Wheels and The Adventures of Tina's Teeth, also looked at the effects of treatment.
Iveta Liovinaite, who combined studying for A-levels with being the company's managing director, said that teamwork was the key to a successful product.
"We established ourselves as a social enterprise and decided to come up with something that would help other children," she said.
"We sell in multiple stores in Northern Ireland and established our own website to get global sales."
And those sales have been impressive - worth £20,000 in 2016 so far.
The pupils entered a contest run by the Young Enterprise charity, which encourages young people to set up their own businesses.
After being named the best company in their county, they won the Northern Ireland title.
Then, following a series of presentations at Arsenal's Emirates Stadium in London, 'Enlighten Hope' were named the best in the UK.
Team member Wioletta Golebiowska said they face three tough days of competition in Europe.
"We're going to have interviews and we're going to be judged on how we sell the product to the customers," she said.
"But we're really excited because we've worked hard."
The school's head of Business Studies, Tracy Hughes, said that the pupils had surpassed all of her expectations.
"It has enabled our children to develop as individuals and to contribute to society, far more than we could have hoped or imagined," she said.
"We've also seen how the children's academic results have grown as a result of self-confidence, due to taking part in the Young Enterprise programme.
"I really do see future entrepreneurs in our midst."