Hundreds of private tenants to benefit from Charity Commission move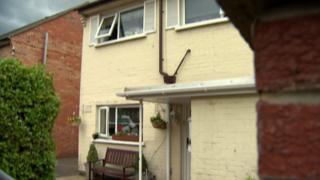 Hundreds of private tenants in rented homes in County Down and Belfast stand to benefit after an intervention by the Charity Commission.
Their landlord, a leading businessman and former solicitor, has been removed as the head of two housing charities.
The move means Derek Tughan has lost control of about 500 properties.
The new managers of the charities are now assessing the properties to see if they need repairs, a development that could benefit tenants.
The housing charities comprise Victoria Housing and Bangor Provident, which Mr Tughan ran as private family companies.
Roger Courtney, who has been appointed to oversee the running of Victoria Housing, said: "Our job as voluntary trustees of the charity is to ensure that from now on it works for the good of the tenants.
"A key part of that will be making sure all the properties are of a decent standard.
"We are therefore commissioning a house conditions survey to assess the state of all the properties, to enable us to put in place a plan to bring all properties up to standard."
Mr Tughan said he converted two property rental companies into charities in 1986 to avoid paying tax.
He said: "On our taxable revenues, we paid no tax.
"Nor did we pay capital gains on pay properties we happened to sell.
"Tax exemption does not make you a charity - it was a mistake."
This mistake, as he now describes it, allowed him to avoid paying tax for almost 30 years.
But it was the tax exemption status given to him for charitable reasons that brought Mr Tughan to the attention of the charity watchdog, the Charity Commission, when it was set up several years ago.
It began an investigation and removed Derek Tughan, meaning he is no longer in control of his former property empire, valued at about £15m.
On top of that, he is also being asked to pay back every penny he made in profits - an estimated bill of about £10m and a potential total loss to him of £25m.
Mr Tughan questioned the commission's intervention, saying it had "confiscated" his "family property".
"I spent 50 years working maintaining my integrity and I am now treated like a common criminal," he added.
"It is disgraceful - they think I am a crook but I am not.
"But I am going to have to fight this because it is just plain wrong."
At one stage when he was in control, Mr Tughan was collecting tens of thousands of pounds each month in rent.
He described himself as a good landlord who looked after his tenants.
"We did everything that was necessary, we never screwed anybody, we did our repairs," he said.
"In fact, we probably spent generously on our repair programme to make sure people's houses were kept in good repair," he said.
But some tenants in the Riverdale estate in west Belfast, where Victoria Housing has 188 homes, disagreed that he had done everything that was necessary.
Anne McAllister said she had been a tenant of Victoria for 40 years.
"There was no central heating in the house when I moved in," she said.
"You had to put that in yourself."
Marie Cassidy, who has also paid rent to Victoria Housing for 40 years, said: "My fence was broke and I had to pay for it to get it fixed.
"Anything you want done you do it yourself."
The new management at Victoria Housing said they also intend to refurbish any empty properties.
"Where necessary, we will upgrade any vacant homes so that we can help reduce housing need in the areas we work," the added.