Fatal foetal abnormalities: Assembly working group has first meeting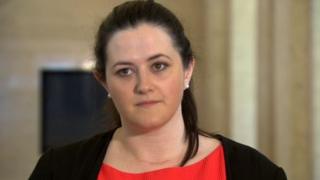 It has emerged the first meeting of the Assembly's working group on fatal foetal abnormalities has taken place.
It was first proposed in February when First Minister Arlene Foster asked the then Health Minister Simon Hamilton to set up a working group.
In a written answer to Sinn Féin MLA Catherine Seeley, the Justice Minister Claire Sudgen said she had met the Health Minister Michelle O'Neill.
They agreed the establishment of the interdepartmental working group.
The group met on Thursday, 14 July.
The group is expected to report to both ministers by the end of September.