Danske Bank reports pre-tax profits of £64.5m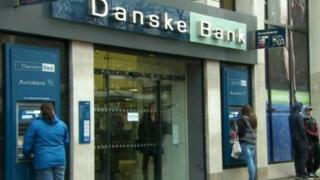 Danske Bank has reported pre-tax profits of £64.5m for the first half of the year.
That is down slightly from about £65m for the same period last year.
This is because of a fall in revenue from loan impairments, which is a sign of economic recovery as they arise from writing off bad debt.
Danske Bank's operating profit rose 13% to £48m, which the bank said is down to a number of factors.
These include a continuing recovery in the property market.
Danske Bank UK chief executive officer Kevin Kingston said: "The underlying performance of the bank continues to improve, while at the same time impairments continue to fall.
"Indicators show that uncertainty around the EU referendum outcome is impacting upon general business confidence.
"However, our local businesses are well used to dealing with challenges and change, and we remain confident that they will adapt as required to ensure continued growth."