Paramilitary action plan critics 'throwing mud' says Claire Sugden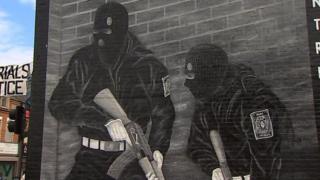 The justice minister has said critics of a plan to tackle paramilitary activity in Northern Ireland are "throwing mud for the sake of it".
The £50m action plan, published on Tuesday, is the executive's response to the recommendations of an independent panel's report published last month.
Former justice minister David Ford said it was "utterly weak", while UUP leader Mike Nesbitt called it "a wish list".
However, Justice Minister Claire Sugden said it was a "serious piece of work".
"To expect a fully costed and detailed plan at this stage, in my mind is really just throwing mud for the sake of it," she said.
"I think for the first time we're really acknowledging the challenge that we have in tackling this issue. This is a long-term goal in terms of challenging this issue for good, it's not a case of just putting things in pace for the short-term."
The plan includes a range of educational and community schemes aimed at deterring young people who are at risk of involvement in paramilitarism.
Ministers also accepted proposals to help ex-paramilitary prisoners applying to travel, to adopt and to access loans.
'Vague generalisations'
However, Alliance Party leader and former justice minister David Ford said the plan was "not what was needed to combat paramilitarism".
"Had I still been minister of justice, I would have expected the executive response to contain clear targets, identifying which department had responsibility, timescales for implementation, and funding to be provided," he said.
"Instead, we have a series of vague generalisations, some merely accepting the panel's report without anything specific."
Ulster Unionist leader Mike Nesbitt also said he was "deeply disappointed" with the plan.
"It isn't an action plan. It's a promissory note," he said.
"They say they 'will propose', 'will commission', 'will assess', 'will consider', 'will engage', but how, when and what is the actual plan?"