North Belfast: Man injured after being attacked with hammers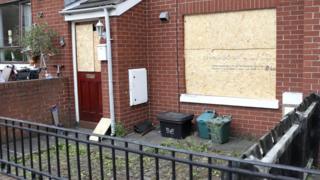 A man was taken to hospital after being attacked by a number of masked men armed with hammers in north Belfast on Wednesday night.
The 37-year-old suffered injuries to his arms and legs.
The incident is reported to have happened in a house in Canning Place at about 21.30 BST.
The intruders also smashed a number of windows in the property before making off on foot along Clanmorris Street.
The PSNI is appealing for information.