Border poll: Micheál Martin says vote would be divisive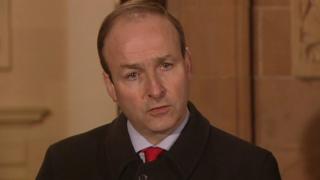 Fianna Fáil leader Micheál Martin has said he does not support a border poll in the immediate future.
On Monday, Taoiseach (Prime Minister) Enda Kenny said Brexit talks should take into account the possibility of a future poll on Irish unity.
These comments drew a mixed response - Sinn Féin welcomed his remarks while the DUP said the taoiseach was "being mischievous".
However, Mr Martin said a border poll would not be helpful at this time.
Speaking on BBC NI's Good Morning Ulster, he said people in Northern Ireland who voted to remain in the EU might not want a united Ireland.
"I think an immediate border poll would be very divisive and would be detrimental in my view to cohesion and unity of purpose on the island," Mr Martin said.
"I don't see a link at this particular time, other than we know that 55% voted to stay within the European Union that does not mean that the same 55% would opt to vote for a united Ireland.
"I've never said that and I don't hold to that."