Cavehill Country Park: Mountain bikers angry after fishing wire left between trees at trail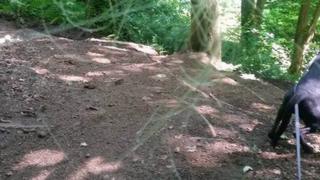 There has been a call for increased surveillance after fishing line wire was left between two trees on a mountain bike trail at Cavehill Country Park in north Belfast.
Bernard McClure of Cavehill Mountain bikers said the wire was discovered on Tuesday.
He said the incident had been reported to the police and Belfast City Council.
It follows an "attempt to sabotage" a mountain bike trail at Rostrevor's Kilbroney Park earlier this month.
Mr McClure said the wire had been found by a man walking his dog and warned it could have caused a serious injury.
He said the problem of obstacles being placed on the park's cycle trails had intensified in recent years with rocks and branches among the items located.
"The fishing line wire was found today by a mountain biker walking his dog who was checking for items," he added.
"We have found branches and logs in the past, but you are not expecting a fishing line.
"With fishing line wire, you wouldn't even see it.
"It could slice into someone's throat or, if it caught you on the arm or chest, it could knock you off the bike and cause you a serious injury.
"We want action with covert surveillance or the monitoring of the mountain bike trails more closely.
"I have used these tracks for 10-15 years and I know you have to be careful, but if you were a 17-year-old starting out you might not be expecting it."
In a statement, Belfast City Council said it was aware of "this problem" and had sent "our park wardens out to check out all the normal cycling routes as quickly as possible".
"In the meantime, we would ask people to be careful and report anything suspicious to the council."
In the incident at Rostrevor's Kilbroney Park on 2 July, marshals found that rocks and logs had been placed to block the route for the First Tracks Enduro Cup race.
Wool had also been tied between trees at head height.