Rural doctors' practices 'at serious risk of closure' says BMA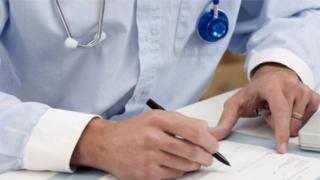 Rural GP practices across Northern Ireland are at "serious risk of closure", the British Medical Association (BMA) has warned.
It wants what it calls an "escalating crisis" in general practice" to be addressed.
"The Northern Ireland government is sleep-walking towards a crisis in primary care," said Dr Tom Black.
"The majority of rural practices in Northern Ireland are at serious risk of closure."
Dr Black, who chairs the Northern Ireland General Practitioners' Committee (NIGPC), said the problems concerned workforce and workload issues.
"The situation is particularly bad for smaller, single-handed and rural practices that have fewer GPs working in them and who are struggling to fill vacancies," he said.
In June, the BMA published a survey which, Dr Black said, suggested that some practices were struggling to survive.
A new petition, launched on Wednesday, is the BMA's latest attempt to highlight the pressures on GPs.
It calls on the health minister to:
Invest 10% of the Northern Ireland healthcare budget on a safe, sustainable GP service for patients
Train more GPs so practices at risk of closure can stay open and meet the needs of patients
Reduce bureaucracy and improve IT systems so that more time can be spent providing care to patients
The petition will be delivered to the Northern Ireland Assembly in September.
"This is a matter of urgency to not only rescue general practice, but to ensure that patients in Northern Ireland have a responsive, safe and sustainable general practice service that they know will be there when they need it," said Dr Black.
The association has repeatedly warned the role of the GP is expanding rapidly.
An ageing population with serious long-term health conditions means GPs are often required to do a lot more with often fewer staff and resources, according to the BMA.