Falls Park, Belfast: Police investigating sex attack on teenage boy arrest man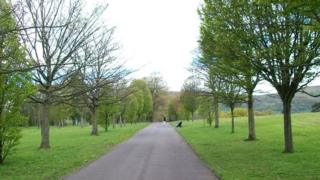 A man in his 30s has been arrested following a report of a sexual assault on a teenage boy in west Belfast.
He was reportedly attacked as he walked home in the early hours of Saturday, in the Falls Park area.
Earlier, speaking to Belfast Live, the boy's sister said a man followed her brother and shouted "come here, come here".
She said the man then ran up behind him, and pulled him into bushes.
"He was crying his eyes out, he ended up managing to get away and ran home, and the man was shouting after him, he was in a terrible state," the woman said.
"We phoned the police as soon as he came home and they came straight out. They didn't leave us until 9am the next morning.
"They took his clothes, asked him all the questions, but because they didn't know exactly where it had happened, he had to go back to the scene with the police, it was terrible."
Sinn Féin councillor Janice Austin said she had been speaking to the police about the "very vicious attack".
She appealed for anyone who could help police to catch the man responsible to come forward.