West Belfast: 16 petrol bombs are seized by police after attack of 'sheer recklessness'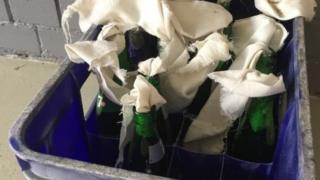 Police seized 16 petrol bombs in west Belfast after one was thrown at officers in the area earlier this week.
A PSNI officer posted on Facebook on Wednesday night that the petrol bombs had been found in Colinview Street and were designed to be thrown at officers.
They said it followed an incident at Lanark Way earlier this week when a petrol bomb was thrown at police as they stood among a crowd of people including young children.
It did not ignite and fell on ground.
The police officer described the petrol bomb attack as "sheer recklessness".
"Why do some people think it's acceptable to throw items such as this at another human being?," the post said.
The police officer added that the 16 petrol bombs had been stashed in Colinview Street "to be thrown at officers again".
"Have a think about what you are doing engaging in this type of behaviour, it can't be stressed enough how dangerous this is," the PSNI officer said.
"Are we really promoting a society where people are effectively trying to set light to police officers at their day's work?"