Danny Kinahan MP apologises for tricolour photograph at bonfire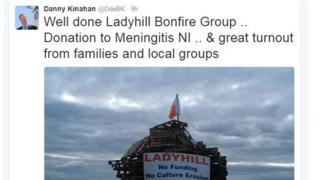 An Ulster Unionist MP has apologised for posting a photograph on social media which showed him standing in front of a bonfire bearing an Irish tricolour.
The picture was posted on Danny Kinahan's Twitter account on Monday.
The MP posed for the photograph while holding a cheque for charity.
Mr Kinahan said he accepted it had been an error in judgement, but said the flag was removed from the bonfire before it was lit.
He told the BBC's Good Morning Ulster: "What I wanted to get across was here was a family, rural bonfire scene and they'd raised £600 for meningitis.
"They were having fun and this is Protestant culture - let's recognise each other's cultures and get on with it."
Mr Kinahan added: "I should have had the flag taken down before the photograph, but it's really to get the point across - let's recognise each other's cultures, let's look after them, be tolerant and let's get on and enjoy our lives."
Sinn Féin election posters and Irish tricolours were put on other 11th night bonfires.
Alliance leader David Ford told the same programme: "I'm glad Danny has recognised that this morning and has apologised."
The former justice minister contrasted the MP's actions at the bonfire with his support for the Irish government's official commemoration of the Battle of the Somme at the weekend.
"I think I was probably the first person who pointed out on social media last night that on Saturday he was showing respect for the Irish state, its symbols and its flag," Mr Ford said.
"I find it completely unacceptable that he should stand in front of a symbol of hate with the tricolour on the bonfire last night [Monday]."
The Alliance MLA added: "I accept he has now apologised, he has admitted it was an error of judgement.
"I think it was a bit more than an error of judgement but he has at least apologised and we should recognise that."