Eleventh night bonfires lit across Northern Ireland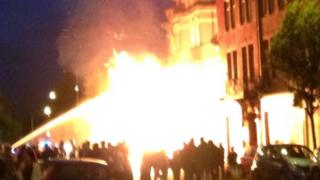 Eleventh night bonfires are starting to be lit across Northern Ireland.
The Northern Ireland Fire and Rescue Service (NIFRS) said out of the 30 calls it had received on Monday from 18:00 BST, six had been bonfire-related.
Randy McComb from the Fire Service said it had been relatively quiet so far compared to previous years.
"I would urge people to be safe, act responsibly and use common sense when they're attending bonfires," he said.
"It's important to keep people back, especially young kids and don't use any flammable liquids to light the bonfires.
"If the bonfire gets out of control, call 999 immediately and ask for the Fire and Rescue Service."
Environmental concerns
In east Belfast, fire crews moved in to dampen down buildings next to a bonfire close to Cluan Place.
Environmental concerns have been raised about the burning of tyres at several locations where hundreds have appeared.
The Northern Ireland Environment Agency said they have issued five £300 fines over dumping at bonfires within the past two months.
Meanwhile, police are investigating complaints about a bonfire in the Corcrain estate in Portadown.
Sinn Féin posters were burnt on a loyalist bonfire on Saturday.